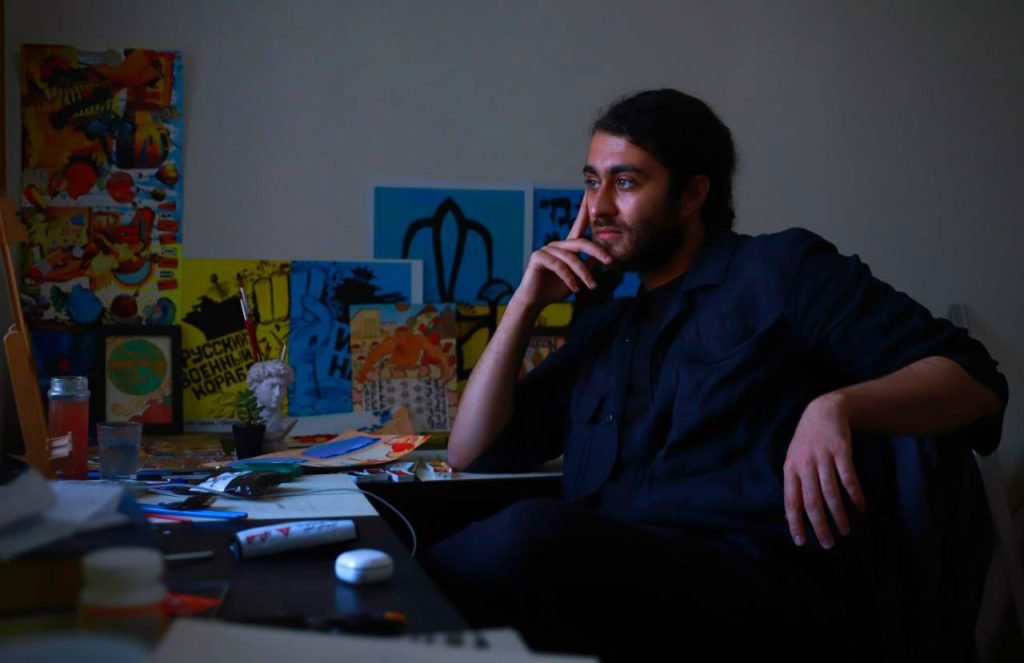 Based out of Jerusalem, the work of Shamah is in part a manifestation of the Jewish tradition and story, and in part an expression of sociopolitical and cultural critique, expressed through a mixed-media medium, incorporating oil paint, ink, watercolor, and manual collage.
In this vein, the series of collages, oil paintings, and their convergence in the form of mixed media, aims to answer grander questions of identity and history. These pieces waste no breath in immediately jumping to political questions, expressions of identity, and most importantly the attempt to combat modern-day apathy with an exploration of our history and collective human experience. 
Other works on this site can be classified as "Judaica," and stylized calligraphy. Primarily, Shamah works with newly engaged couples to design custom-made Ketubot (Wedding Documents) and calligraphies which represent their familial roots, aesthetic tastes, and the symbolism of ideals which they hope to exemplify in life and marriage. Additionally, one may commission a variety of personal pieces such as book plates, family trees, and book covers.
Shamah holds a degree in Art History and Jewish Studies, a Certificate in Cultural Heritage Preservation, and previously worked in historical archives, archaeological digs, and was the head curator of the Karmazin Gallery in New Brunswick, NJ. 
Current Projects:
Upcoming Exhibition: Shamah & Thoufeek Zakriya – POSTPONED – DATE TBD, Dubai, United Arab Emirates
Slava Ukraini Series: Original artwork made on a rolling basis, 50-90% of the proceeds going towards sending humanitarian aide, as well raising funds for defensive gear, for Ukraine
Publishing: Oheliba, the Poetry of Yonah Ben Avraham, a series of mixed-media collage works, to accompany twelve poems by the author. To be published in Q2 of 2023
Publishing: World Against War: A Chronicle of Real and Virtual Events, Yuzef Duberman & Moshe Shamah, a chronicle of the first year of the War in Ukraine. To be released 2023-2024
Sha'are Qedusha – A Translated edition of the famed book of R' Hayyim Vital, to be published by Rabbi Adam Zagoria-Moffet Izzun Books, United Kingdom, with twelve accompanying painting/mixed-media illustrations